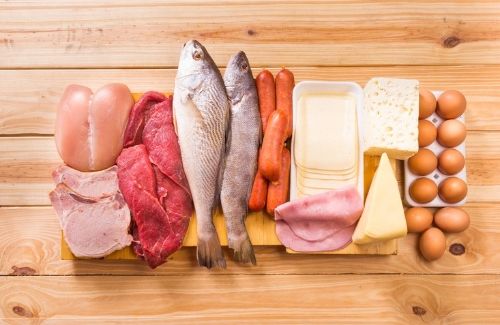 Time can be tight for meal prep. We want ready, quick and or on the go ideas based on our day for both hot or cold options.
_
Here are a a few meal ideas I use for breakfasts and lunches to get my protein in.

Omelette
2 large eggs, 3 egg whites and 30g shredded mozzarella cheese (or feta cheese) - Pack with whatever veg to taste... tomatoes, spinach, onions etc.
Yogurt & Fruit
200g greek yogurt with berries (fresh or defrosted).
Tip
Look for high protein options #read the labels
Smoothies
Add a scoop of protein powder to almond milk and berries.
Tip
Add a 1-2 tbsp of nut butters
Cottage Cheese
Serve with chicken or lean ham with some leafy greens. Even add some pineapple your cottage cheese.
Tip
Add some chia seeds for an extra boost of protein, healthy fat and fibre
Salmon
Serve with some quinoa, roasted asparagus or broccoli and a slice of lemon for squeezing to taste.
Chia Seed Pudding
2tbsp chia seeds, scoop of protein & almond milk. Leave it over night.
Turkey Chili
Served with some shredded cheese and a dollop of high protein yogurt.
Meatballs and Dip
Using lean turkey or beef, sprinkle with parmesan cheese and dip into a homemade tomato dip.
Tip
Add some spinach leaves with your balls
Oats
Add a scoop of protein, a dollop of high protein yogurt and chia seeds to your instant oats.
Tip
Add some berries
Instant oats are good for on the go. You can make the night before if not too rushed.
Protein Blend & Go
A simple scoop of protein, banana, almond milk and a tsp of peanut butter.
Grab A Bagel & Go
A simple salmon and low fat soft cheese bagel.
Tip
Try DR ZAKS high protein bagels *Click HERE*
Lower budget try Warburtons Protein Thin Bagels *Click HERE*